Logging
Introduced in Virtual Y 0.7, the "Open Y Virtual YMCA Log" module generates logs to record user behavior on Virtual Y sites.
To enable the module, visit the Extend page on your site, or ask your partner for assistance.
Once the Log module is enabled, you'll see two new items in the Virtual Y menu:
Logs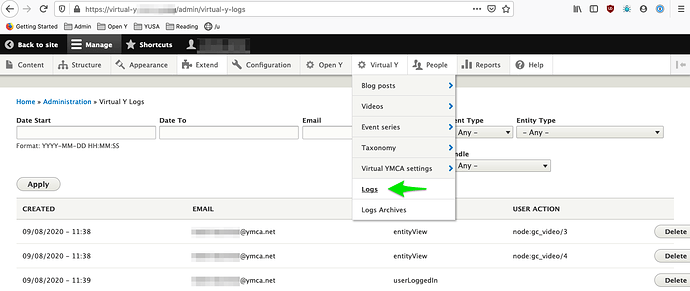 The Virtual Y Logs page displays searchable and filterable individual user activity. Additionally individual log items can be removed.
Activities that are currently being tracked include:
User log in
User views content
The Open Y team is working to add additional logging functionality as they gather requirements. If you have additional logging requirements for your reporting, please contact the YMCA Website Services team with as much detail about your requirements as possible.
Logs Archives
As of Virtual Y 1.1, log archives can be generated on-demand via Virtual Y > Logs > Export Log Records
While logging begins immediately, (prior to VY 1.1) log archives should appear on the first day of the month following when logging is enabled. Log archives will be available as .gz files. The archive stores data indefinitely, but the log itself then deletes out the previous month's info out of the database to start collecting data for the current month.
Virtual Y > Logs stores ONLY the current month's records
Virtual Y > Logs > Logs Archives keeps monthly archives indefinitely, in the format virtual-y-logs-2021-01.csv.gz
The log archive process depends on Drupal's cron task, so you'll need to ensure that cron is running periodically on your site.
To extract files on Mac:
The system's Archive Utility should work to extract files. If that fails…
(Easy) Download Keka or The Unarchiver, install, and use it to extract the file.
(Advanced) Open a Terminal window and navigate to the directory where the zip is, then run gunzip my_log_file.csv.gz
To extract files on Windows:
Use 7Zip to extract the .gz file.
Open with Excel or Google Sheets.
To extract files without a separate download:
Translating timestamps
Your Virtual Y log archives may include times in the created column that look like 1606839555. This is a format called "Unix epoch time". You can convert it to a human-readable format in a few ways:
Visit https://www.epochconverter.com/ and paste in a value
In Excel/Google Sheets:

Use the formula =(A1/86400)+DATE(1970,1,1), substituting the correct cell for A1
Right-click on the column, select "Format Cells", then choose a Date format.