Managing Footer LInks
Your standalone Virtual Y site may have a block with social media links at the bottom of the page. These links can be customized for many social media services.
Getting to the block editor
Your site may have a "Quick Edit" icon (a tiny pencil) that pops up when you hover over the section with the links. If so, click the pencil, then Edit.

OR
If you don't see the Quick Edit option, you can navigate to the block editor at Structure > Block Layout > Custom Block Library > Edit Footer Social Block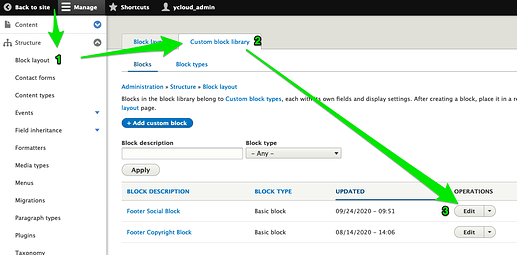 Editing the block
On in the Block editor you will see a Content field with links to your social media sites.
Adding a link
Add a new item to the bulleted list.
Select the text.
Click the link icon.

Editing links
Select text to link or double-click on an existing link
In URL add the link to the social media site
Edit the Title to something more descriptive
Open the Advanced section and update the CSS classes to select the correct icon. Be sure to copy the entire code below

Facebook: fa fa-facebook
Twitter: fa fa-twitter
YouTube: fa fa-youtube
Instragram: fa fa-instagram
Vimeo: fa fa-vimeo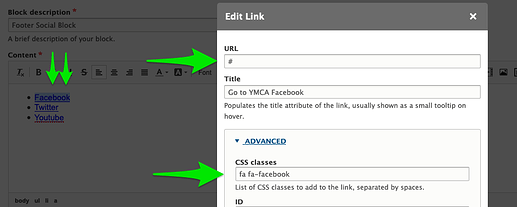 When you are finished, Save.